Introductie
This year the IIPC Web Archiving Conference (WAC) is organized by the Netherlands Institute for Sound & Vision and KB, National Library of the Netherlands (KB). The WAC and the IIPC General Assembly will be held in-person in Hilversum from 10-12 May, 2023 with an online day on 3 May, 2023. Multiple speakers from the KB will be present and will be presenting. A quick overview of the presentations the KB contributed to.
Inhoudsblokken
Afbeelding
Image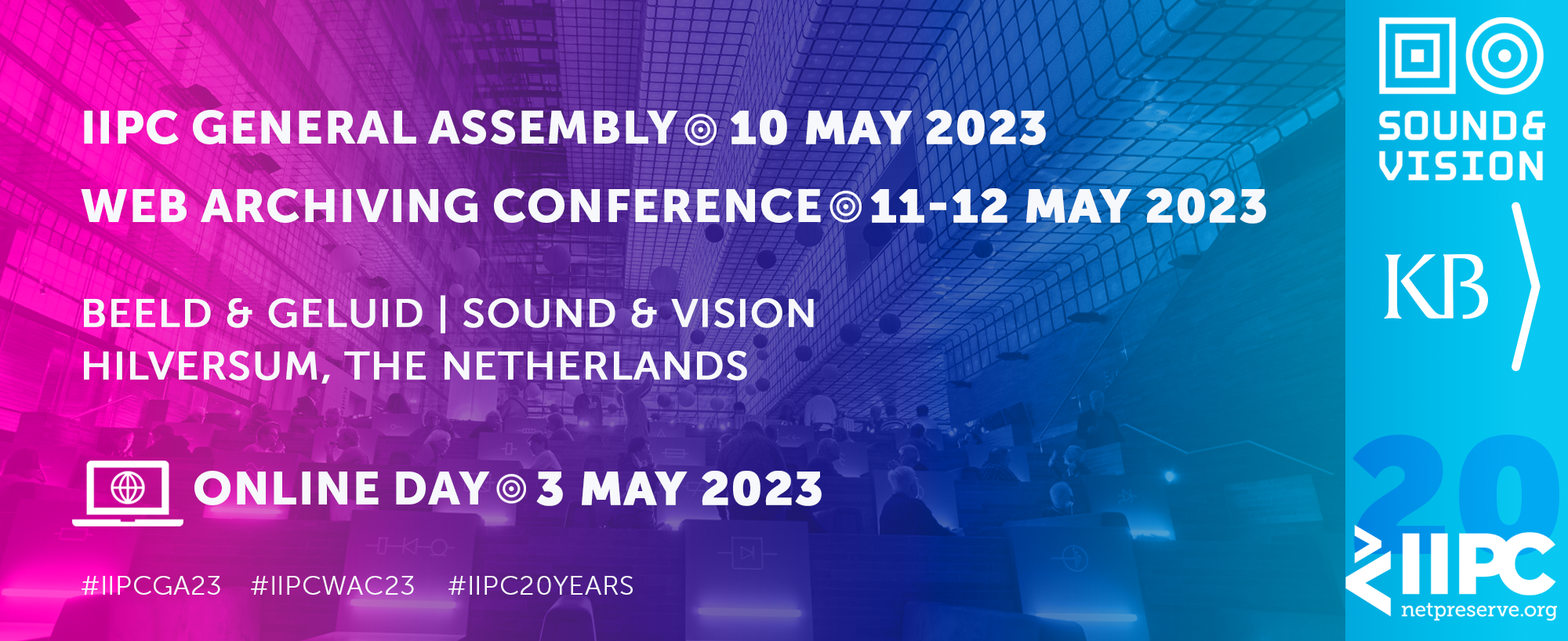 Body
Thursday 11 May
Session 2: Finding meaning in web archives
11:20 - 11:40: Conceptual Modeling of the Web Archiving Domain
Former intern Illyria Brejchová will be presenting about conceptual modeling of the web archiving domain.
Session 4: Social media & playback: collaborative approaches
13:30 - 13:50: Searching for a Little Help From My Friends: Reporting on the Efforts to Create an (Inter)national Distributed Collaborative Social Media Archiving Structure
Zefi Kavvadia, Katrien Weyns, Mirjam Schaap and Sophie Ham discuss the progress of bringing together representatives of different organizations from different sectors in Belgium and the Netherlands to research the possibilities for what a distributed collaborative approach to social media archiving could look like, including requirements for sharing knowledge and experiences systematically and efficiently, sharing infrastructure and human and technical resources, prioritization, and future-proofing the initiative.
Poster presentation (POS-2: Lightning & drop-in talks)
17:30 - 18.10: Drop-in talk
At the end of the rainbow. Examining the Dutch LGBT+ web archive using NER and hyperlink analyses.
17:30 - 18.10: Visualizing web harvests with the WAVA tool
Ben O'Brien, Frank Lee, Hanna Koppelaar and Sophie Ham
Between 2020-2021, the National Library of New Zealand (NLNZ) and the National Library of the Netherlands (KB-NL) developed a new harvest visualization feature within the Web Curator Tool (WCT). The feature has now been ported to an accompanying stand-alone application called the WAVA tool (Web Archive Visualization and Analysis). This is a stripped down version, that contains the web harvest analysis and visualization without the WCT dependent functionality, such as patching.
Friday 12 May
Session 11: Collection building
9:10 - 9:30: Museums on the Web: Exploring the past for the future
Researcher in Residence Karin de Wild will be presenting multiple times during the WAC, including a talk about the KB Museums on the web special collection. 
Workshop (WKSHP-03):
8:30 - 10:00: Fake it Till You Make it: Social Media Archiving at Different Organizations for Different Purposes
Susanne van den Eijkel, Zefi Kavvadia en Lotte Wijsman
Different organizations, different business rules, different choices. That seems obvious. However, different perspectives can alter the choices that you make and therefore the results you get when you're archiving Social Media. In this tutorial, we would like to zoom in on the different perspectives an organization can have. A perspective can be formed over a mandate or type of organization, the designated community of an institution, or a specific tool that you use. Therefore, we would like to highlight these influences and how they can affect the results that you get.
This is a in-person tutorial lasting 90 minutes.
Introduction: 
Who are the speakers, where do they work, introduction on practices related to different organizations.
Assignment: 
Participants will do a practical assignment related to social media archiving. They'll receive personas for different institutions (library, government, archive) and ask themselves the question: how does your own organization's perspective influence the choices you make? We will gather the results on Post-its and end with a discussion.
Wrap-up: 
Conclusions of discussion.
Session 12: Domain crawls
10:30 - 10:50: Discovering and Archiving the Frisian Web. Preparing for a National Domain Crawl.
Susanne van den Eijkel and Iris Geldermans will share their best practices for executing a (regional) domain crawl and lessons learned in preparation for a national domain crawl.
Session 16: Preservation & complex digital publications
15:00 - 15:20: What can web archiving history tell us about preservation risks?
Susanne van den Eijkel and Daniel Steinmeier will demonstrate that looking at a few historical webpages can illustrate where to look for answers to determine the sustainability risks and how to formulate better preservation risks using source data and context information.