Inhoudsblokken
Body
On Tuesday 11 April we officially launched the new version of this website. We celebrated this day with not only our colleagues who joined us in making the website possible, but also our users and network with an afternoon filled with lightning talks, workshops and a very interesting panel discussion on tool and data criticism.
#KBLab is live! https://t.co/rRMNXDBi14
Congrats to the @KBNLresearch team. A great resource for DH scholars! pic.twitter.com/PQEtmOGljX
— Europeana Research (@EurResearch) April 11, 2017
Spread the word
First and foremost we want to thank everyone present at the event and all who have supported and helped us on our journey to this new website. Second, we hope we have inspired all participants to join us in the KB Lab and to spread the word about the tools, data and possibilities.
Afbeelding
Image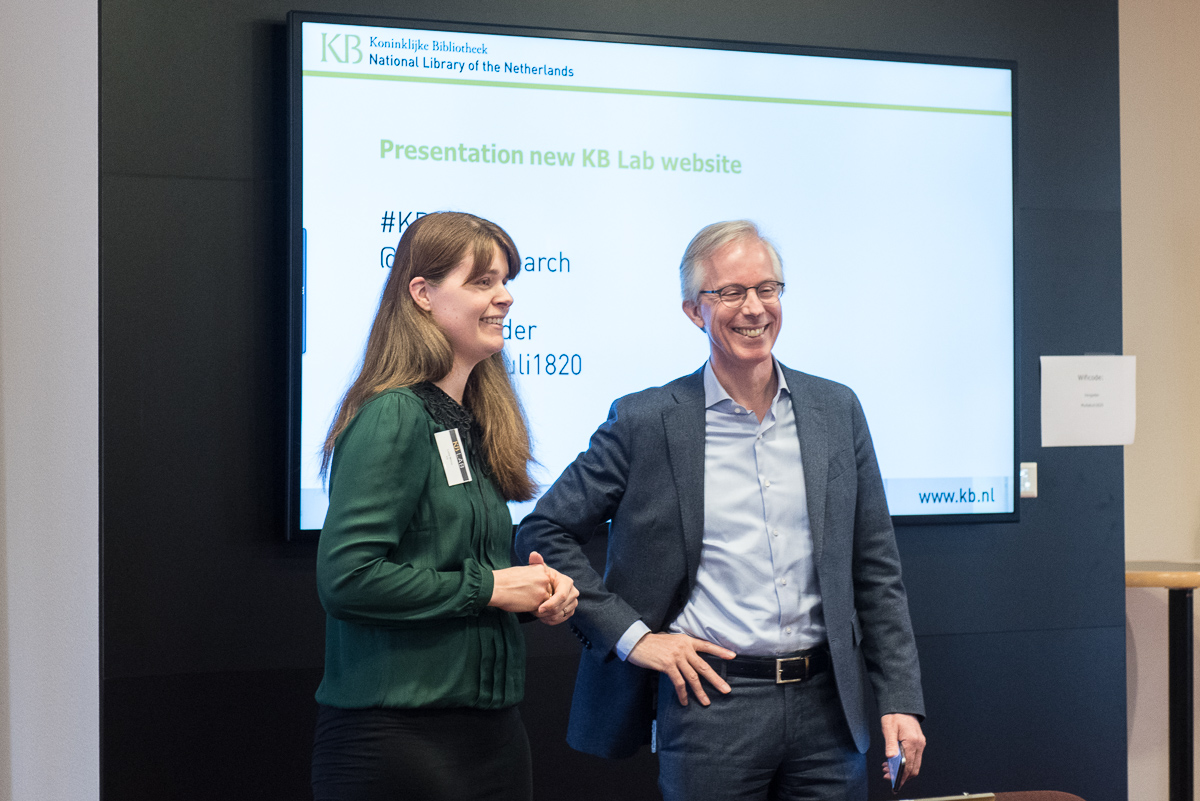 Afbeelding
Image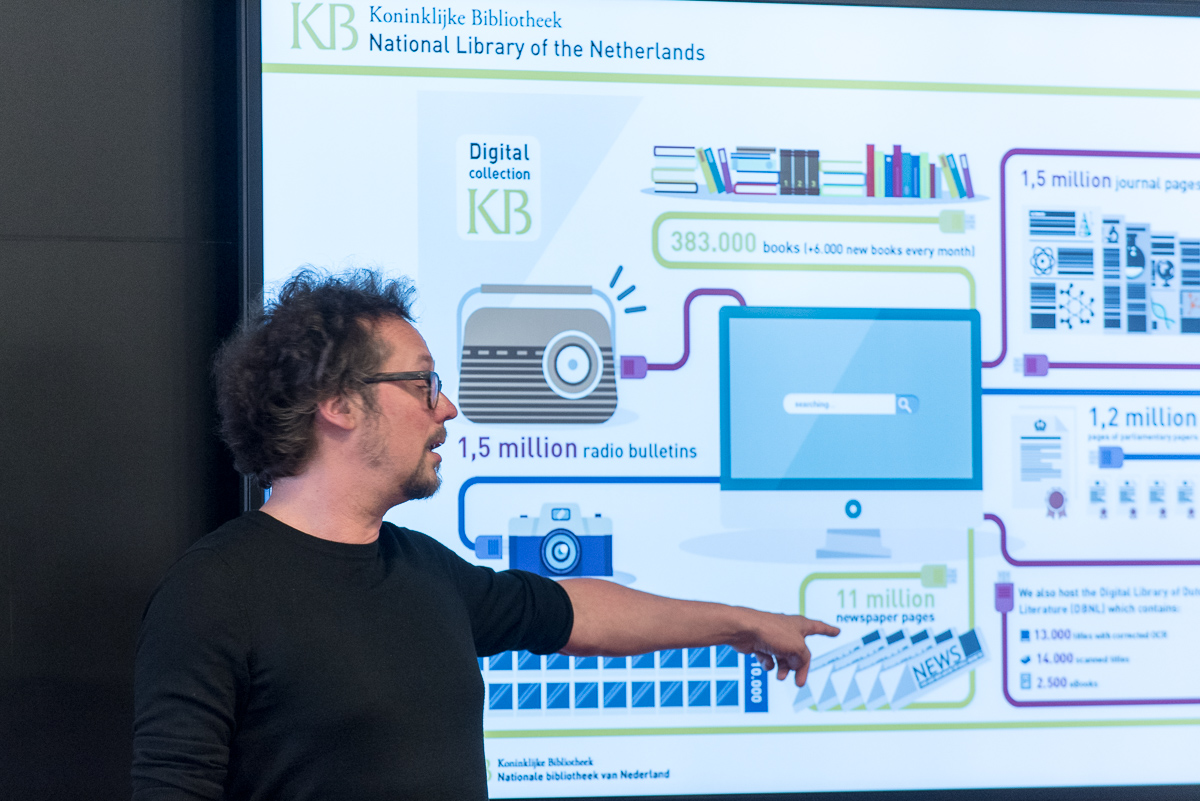 Body
Welcome to the new KB Lab website!
The afternoon was kicked off by Marc van den Berg, deputy director of the KB, who welcomed us and gave a short history of the KB Lab. From a lab in name only to a professional portal for all our experimental efforts on our digitised collection.
After this short opening, Lotte Wilms then presented the new website and gave a quick tour. No more unicorns as easter egg, as we had in our previous website, but a dark side! Try the lightswitch in the top right corner to see the difference. We have now also dedicated a page to our mission and how we position ourselves within the KB and our network. Check it out at lab.kb.nl/about-us.
Lightning talks of tools and data
A lab is nothing without experiments. Most of what we do, we do with others and we have thus asked these researchers to explain their tools or datasets during the 5 minute lightning talks;
Afbeelding
Image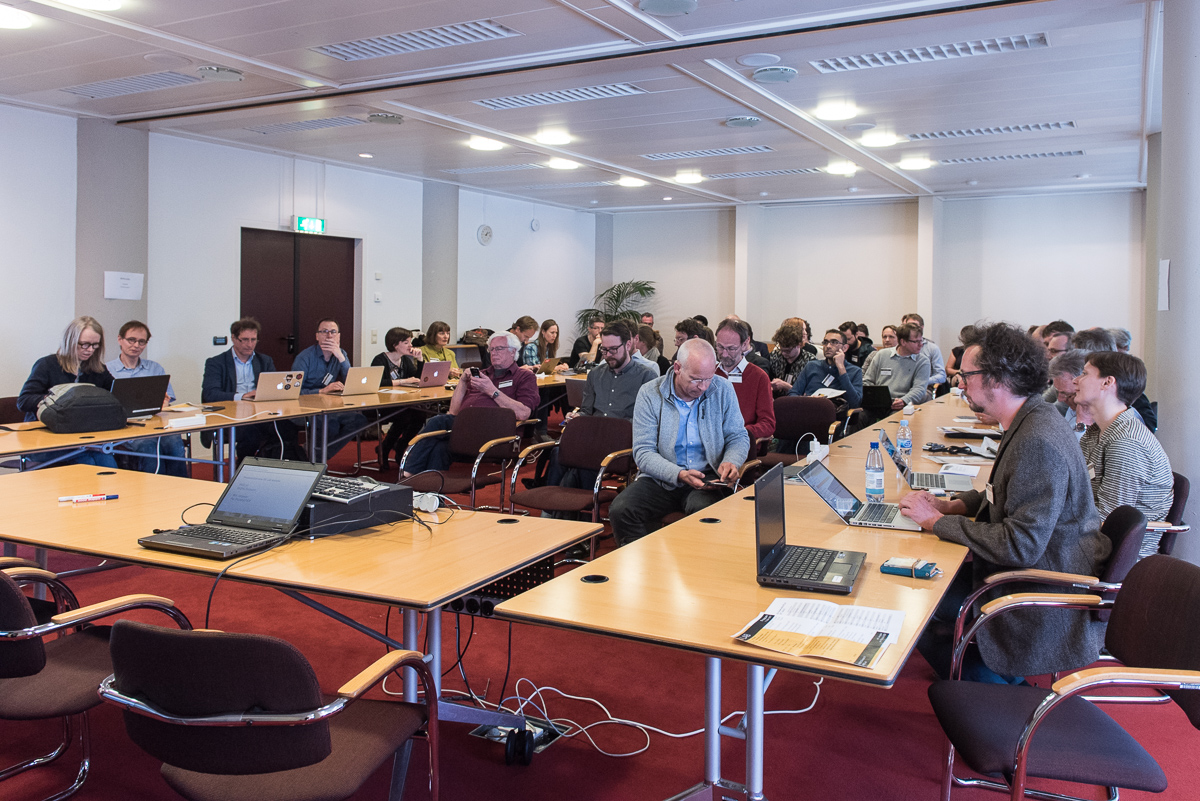 Afbeelding
Image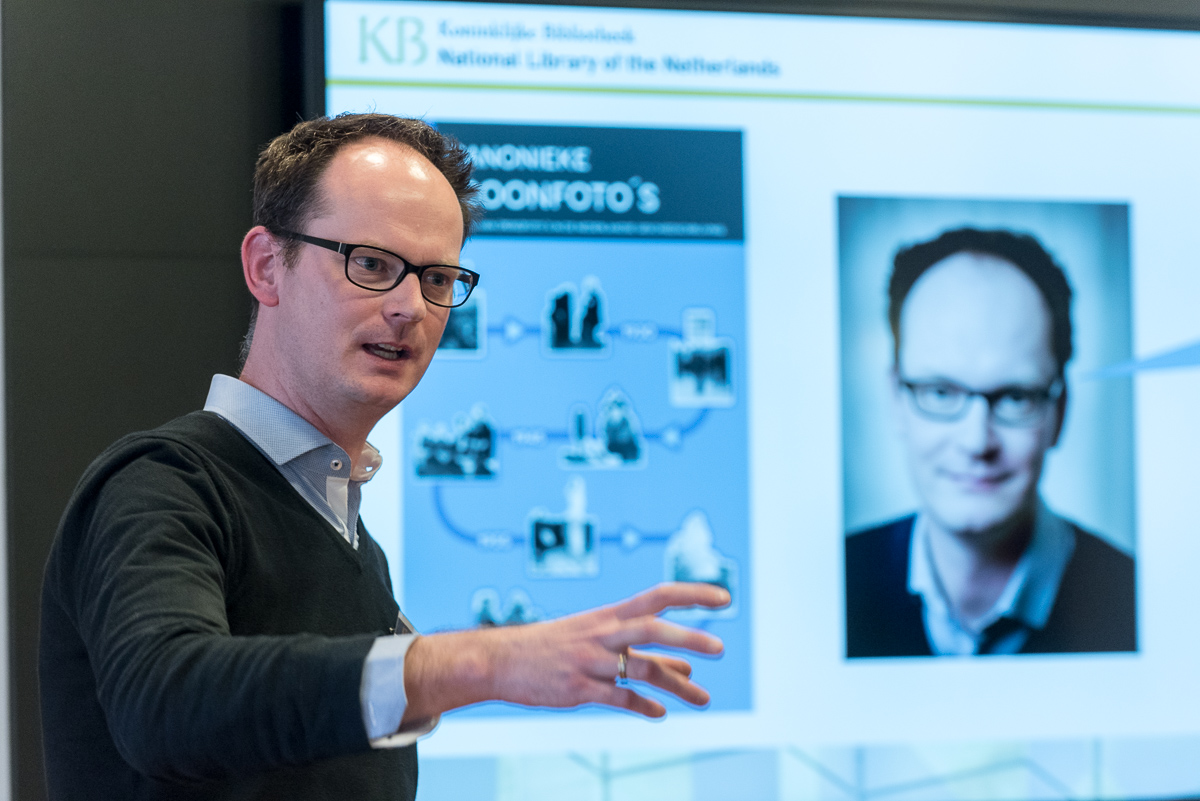 Body
Workshops on APIs, enrichments and the Frame Generator
After a short break, we split up into two groups for the workshops. The Visboekzaal spent an hour learning about the APIs of the KB and how these can be used to access the digital collection. Want to try it yourself? The two-part tutorial is available here and here and we will organise a similar workshop at DHBenelux.
The Gruuthusezaal had the opportunity to enrich the Delpher collection with a browser add-on. Want to have a go at that? Check out the presentation or the Examples tab of the xportal tool page.
Afbeelding
Image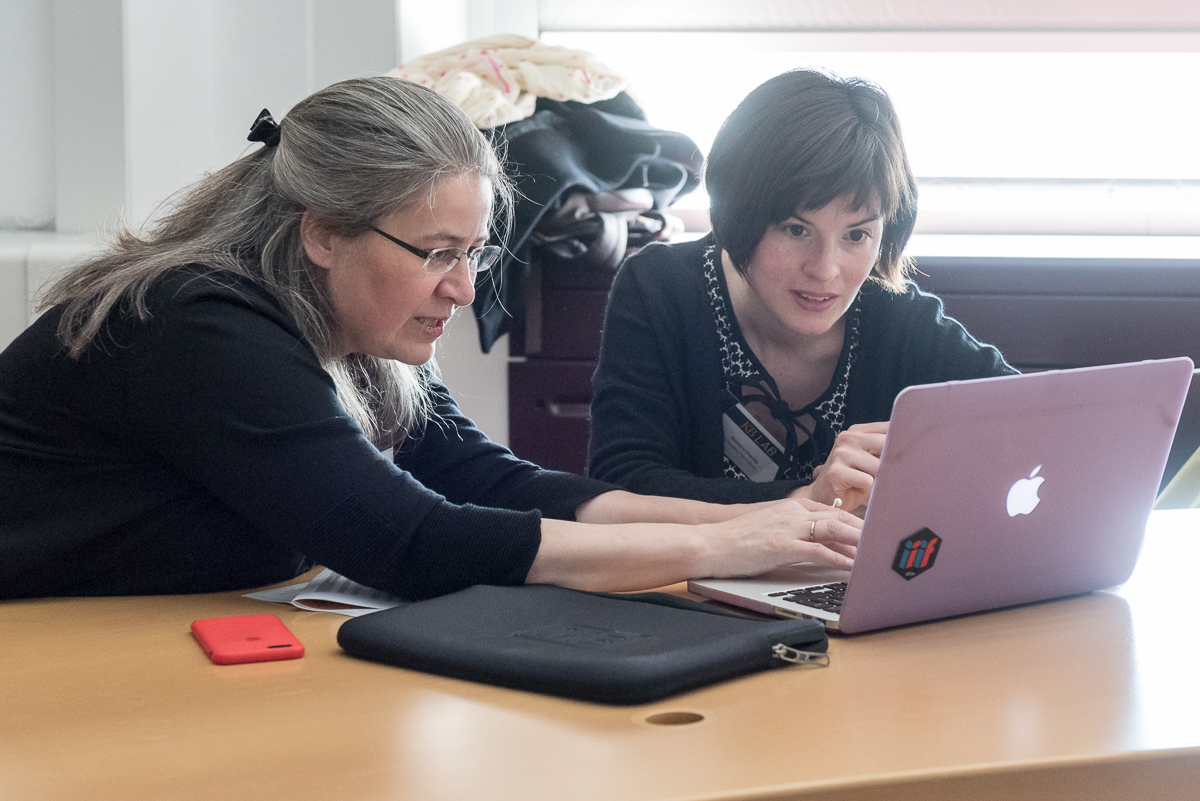 Afbeelding
Image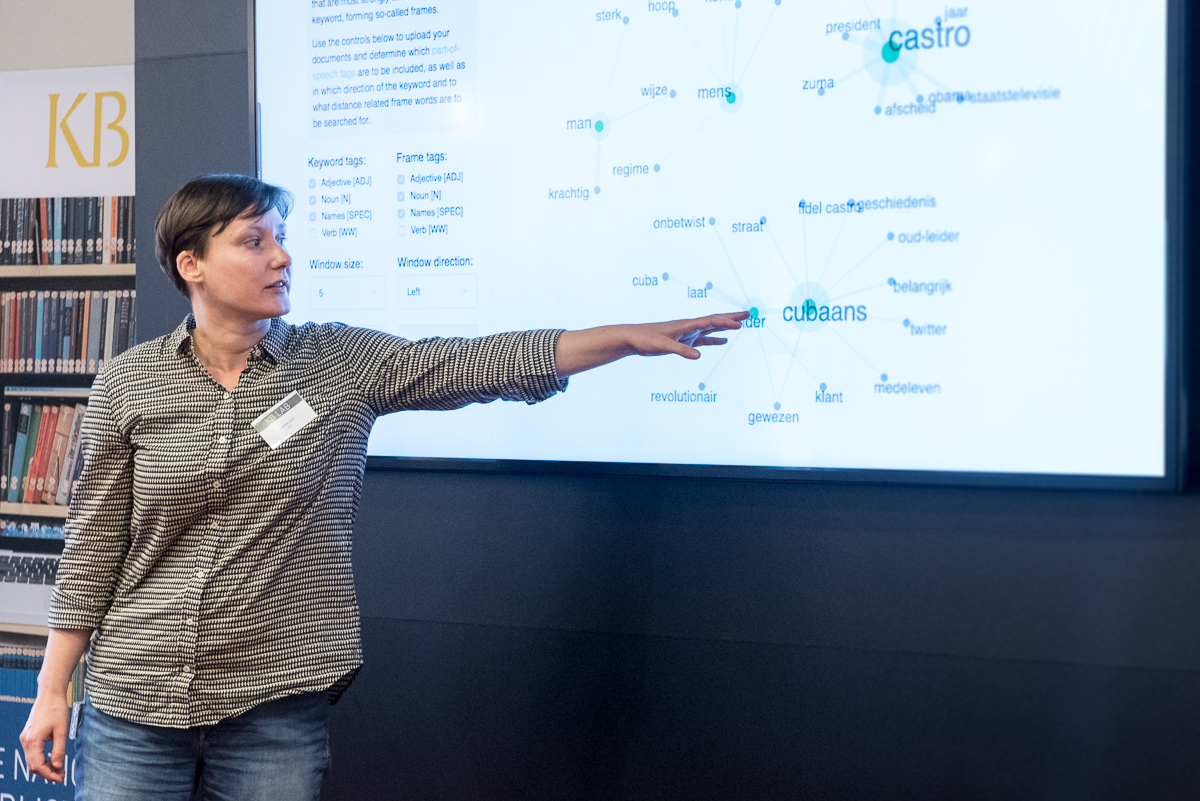 Body
Where do we go from here?
The afternoon continued with a plenary session about the future of the KB Lab. Lotte Wilms showed where we want to go, where our ambitions lie and what will be our mantra: More collaboration, more offline & more research. We see the KB Lab as a hub in our network and although we do not see ourselves as the center of the world, we are in an ideal position to keep an eye on what's happening and to connect people and organisations to each other. And input is always welcome here, as the audience added galleries, museums and archives to our overview during the talk to complement the library-side to the full GLAM community.
Pres by @Lottewilms about future plans of #KBLab visualizes related fields and partners. Let's add #openglam there too. pic.twitter.com/N6hNkcxCfw
— Saskia Scheltjens (@saschel) April 11, 2017
Melvin Wevers, our current KB Researcher-in-residence, then explained his plans for the coming 6 months; computer vision and newspapers. How can we see what is in a newspaper advertisement using computational methods?
Panel discussion on tool and data criticism
Finally, the afternoon concluded with a panel discussion moderated by Dr. Martijn Kleppe and introduced by Prof. Dr. Sally Wyatt with the topic 'Who does what in tool and data criticism?'. The panel consisted further of Dr. Peter Verhaar of Leiden University, Dr. Steven Claeyssens of the KB, Dr. Peter Doorn of DANS and Dr. Jacco van Ossenbruggen of CWI.
Since each participant had a different background (Digital Humanities researcher, curator digital collections at the national library, director of a data repository and a computer scientist), it was interesting to observe that each see an own role when it comes to tool and data criticism. But all panel members agreed that it should be a collaborative effort.
Afbeelding
Image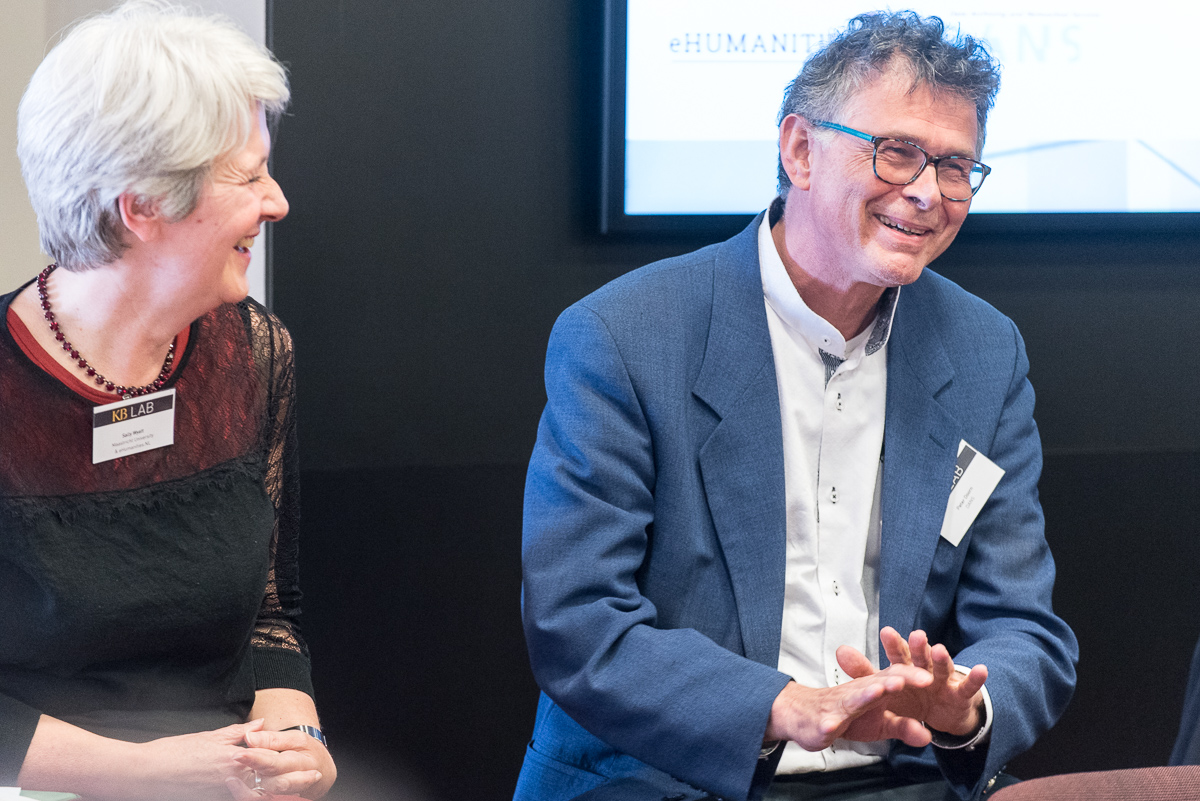 Afbeelding
Image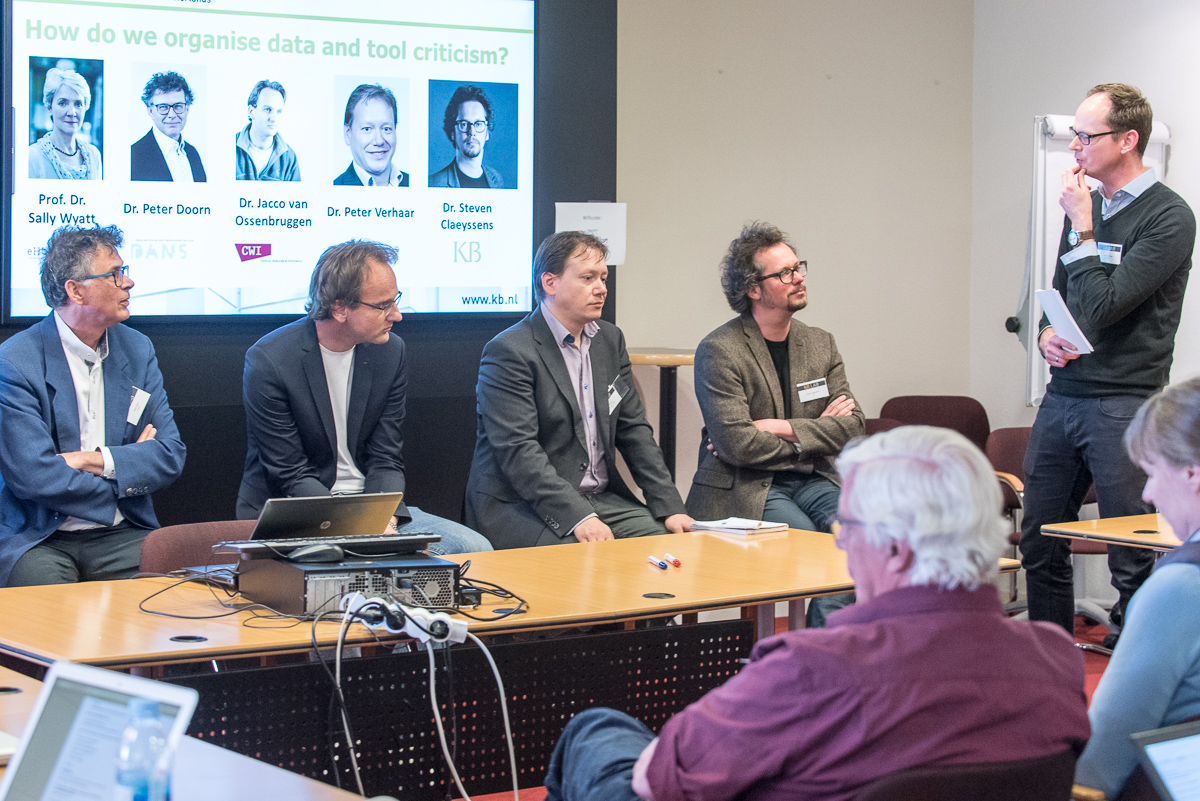 Body
Thank you
The panel was the perfect end to a perfect afternoon (although the Wi-Fi did not share this thought unfortunately) and the audience and speakers were crucial in this, so we again thank you for this.
Great ideas from @KBNLresearch about how to reach out beyond usual suspects. Thanks for stimulating afternoon & good luck with #KBLab https://t.co/sZxQA80fvU
— Sally Wyatt (@wyatt_sally) April 11, 2017
Join us in the KB Lab
The KB Lab will continue to share ideas, tools, data and events and we cannot do this without you. Contact us with new projects, interesting prototypes or refreshing applications and help us make the KB Lab the hub around the digital collection of the KB and Delpher. Join us and explore the KB's digital treasure trove!
Photos by Jacqueline van der Kort