Inhoudsblokken
Body
Antoine Peris and dr. Cynthia Liem are the new researchers-in-residence at the KB. Both researchers work at the TU Delft and will be working together with the Digital Humanities team of the KB on a research project they proposed.
Cities and music
Antoine Peris, PhD student at the section Urban and Regional Research in the Faculty of Architecture and Built Environment, will be working with us from January until June 2018 and he will be using computational methods to research how the image of cities in local and national newspapers has developed. Dr. Cynthia Liem MMus, pianist and assistant professor at the Multimedia Computing Group in  the Faculty of Electrical Engineering, Mathematics and Computer Science, will be working from July until December 2018 on tracing references to music pieces in the digitised newspapers of Delpher and will consequently connect them to the catalogue of Muziekweb of the Centrale Discotheek Rotterdam.
Afbeelding
Image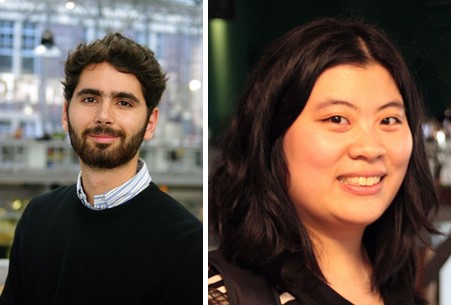 Body
The Researcher-in-Residence program
Since 2014, the KB invites early career and promising scholars to spend six months at the Research department of the KB using a call for proposals. There, they work on a research question related to the large quantities of data that derive from the large digitisation projects of the KB, such as the historical newspapers. Together with KB employees they try to answer this research question using computational techniques. The results are made available in the KB Lab to ensure other researchers can use the outcomes as well.
Previous projects
Previous researchers-in-residence used this program to developed, for example, the Genre Classifier to automatically recognise genre in newspaper articles. We have also experimented with computer vision to research visual patterns in newspaper advertisements with SIAMESE.
Review of proposals
The researchers-in-residence are selected following a submitted proposal. Each proposal is reviewed by a commission of senior researchers. This year's commission consisted of the following members: prof. dr. Sally Wyatt (eHumanities.nl & Maastricht University), prof. dr. Franciska de Jong, (Erasmus University Rotterdam & CLARIN), prof. dr. Emiel Krahmer (Tilburg University), prof. dr. Hilde de Weerdt (Leiden University), dr. Jacco van Ossenbruggen (CWI), prof. dr. Lex Heerma van Voss (Huygens ING), prof. dr. Lora Aroya (Vrije Universiteit Amsterdam), prof. dr. Joep Leerssen (University of Amsterdam) and current researcher-in-residence Thomas Smits, MA (Radboud University).